About
Mosaic Executive Coaching helps startups, established businesses and individuals create positive change. Our unique approach to coaching brings psychological depth to real-world problems. Our clients consistently report improvements in performance and well-being.
Mosaic is different because each of our consultants has 3 areas of expertise: professional coaching, psychological therapy and competency in business. This rare combination of skills and experience enables us to offer clients a unique service that is genuinely effective and can achieve sustainable results.
We abide by the EMCC Code of Ethics, maintaining regular coaching supervision and CPD training to support our work. Every Mosaic programme is tailored to meet the specific needs of each client, helping them achieve their goals. We work to the highest standards of professional integrity and transparency.
Our clients succeed because our expertise is drawn from a number of essential approaches. This allows us to offer the most effective and appropriate method for each situation.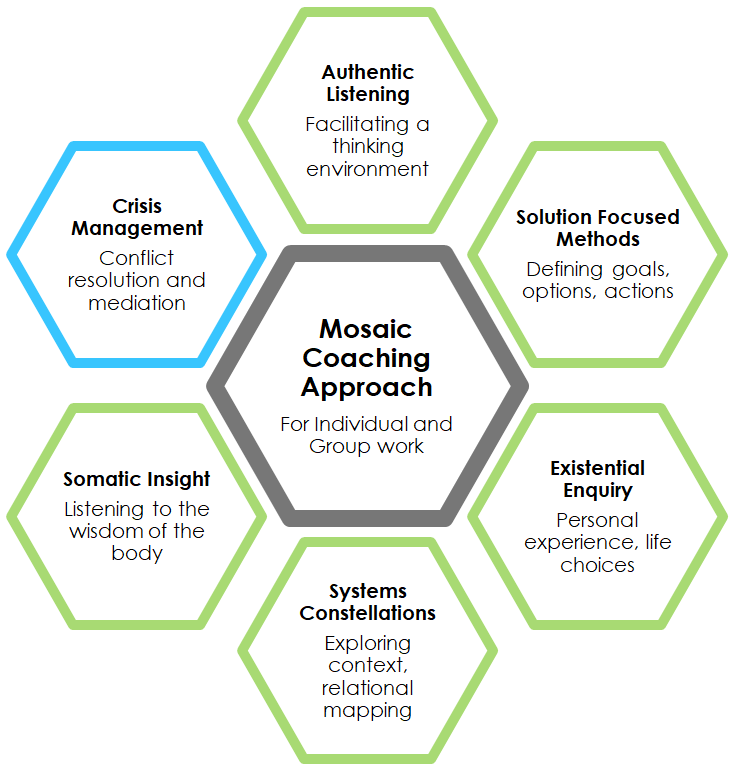 .
Benefits
Mosaic Executive Coaching partners with businesses and individuals to:
improve performance and personal productivity
develop and enhance leadership capability
increase confidence and self-esteem
sharpen focus and strengthen motivation
navigate complex decision making
reduce stress and anxiety
improve professional relationships
change unhelpful attitudes and habits
Mosaic Team Coaching. Provides the space and time for managers and teams to clarify team relationships, internal and external constraints, resolve conflict, find shared purpose and meaning, build on existing strengths and talents, optimise communication and performance and increase team energy and morale.
Mosaic Career Crossroads Package. Decisions around career are complex – from choosing a promotion route to shifting career altogether. This short and cost-effective coaching package is designed for people who find themselves at a career crossroads. It is focused on helping people make key decisions in their working life. The three one-to-one coaching sessions don't seek to pigeonhole people, instead we draw on our therapeutic and coaching expertise to enable people to connect fully with who they are and what they really want. From this point of clarity we explore options in detail and ensure people are moving in their chosen direction.
Events
We run specialised programmes for individuals, groups and teams wanting to improve their performance and quality of life. These provide expert skills training in a calm reflective space where we help each individual or team to identify issues and challenges, resolve these creatively to find the best way forward.
Leadership – teaching the key skills needed to effectively manage people, enhancing both well-being and performance. Programme topics are bespoke but popular workshops include 'Running Successful Meetings' and 'Emotionally Intelligent Communication'.

Career Crossroads – to help those who are making key decisions in their working life. This is one-to-one coaching over three meetings.
All workshop programmes are tailored to the needs and wishes of each organisation or individual. Please contact us to discuss your requirements.
Testimonials
Kay has supported me professionally and personally for many years. She takes the time to understand the opportunities and challenges I face as a business owner and mother, and has been skilfully guiding and coaching me through it all.
– Louise Morriss, Founder and Managing Director, Amazon Public Relations
I have just finished 4 sessions of maternity coaching with Leena and feel like a different person! …I would highly recommend it… They not only prepared me for leaving work but helped prepare me for becoming a mum and addressing the changes in my life that are just round the corner.
– Lotte Hunter-Gaisford, Senior Operations Manager
I hired Kay in 2002 and again 2004-06 when I needed to maximise my effectiveness and that of my team.  She unfailingly prompted me to challenge my preconceptions and develop my management style, and supported me and my team in achieving our professional goals.  Kay's understanding of people, organisational politics and the process of coaching is a rare combination, and I can highly recommend her as a coach.
– Paul C, Head of Corporate IT, Prudential Group
Leena reflected back to me what I was trying to express to check understanding. This refocused me and enabled me to elaborate and draw conclusions about methods that I could use to help me be more productive. Having a clear structure of the outcomes expected and the subjects to follow worked really well and enabled focus to get things moving. The peaceful environment allowed for reflection and concentration.
– MD and Owner, Private Nursery and Daycare Chain
Kay's coaching helped me to work through a very challenging and demanding stage in my career. She focused on me as an individual and supported me in finding solutions that were effective both for me and for my organisation. Kay's support and understanding of corporate life was invaluable in enabling me to succeed and restored my self-belief and confidence; I have no hesitation in recommending her as a coach.
– Richard K, Senior Manager, FTSE Company
I didn't expect it to be so powerful and lasting – I'm still feeling the positive benefits. The group was really interesting and supportive, the workshop had a nice relaxed atmosphere, pitched just right. I can certainly see a place for these workshops as part of our coaches' CPD.
– Head of Learning and Development, NGO
Get In Touch
Call Mosaic for a free introductory telephone consultation to establish your coaching requirements and discuss how we could help.
For individual coaching the meeting time is normally 90-120 minutes. Clients can agree to meet for a single session or a series of meetings. Team Coaching and Workshops can be booked for 2 hour, half day or full-day sessions.
We manage a flexible diary to accommodate changing work patterns and business travel. Face-to-face meetings can be arranged at client site or in our Central and SW London consulting rooms.
Fees for corporate or individual coaching vary depending on terms, location and the agreed programme.
Get in touch at: 07974 753 985 | info@mosaic-exco.com
Mosaic Executive Coaching, 12 Tokenhouse Yard, London, EC2R 7AS, UK.